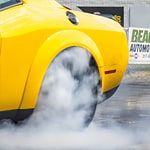 The Challenger has long been a favorite among muscle car enthusiasts. The design features of various trim levels make the vehicles appealing for daily family commutes or as the performance car. When more interested in power and performance, owners choose the SRT Hellcat or the SRT Hellcat Widebody.
The SRT series of vehicles boast a retro design that is reminiscent of the muscle car glory days. The body is wide and low. Smooth curves, sharp lines and body color options are combined with a number of body stripe options to recreate the iconic muscle car.
The curved hood and front bumper encapsulate retro round headlights and a narrow, wide grille. Badges on the grille, engine, hood scoop and body aptly represent the models. See the Challenger models in person at our Team Dodge Chrysler Jeep of Huntsville destination. Make arrangements to take one of the cars for a road test.